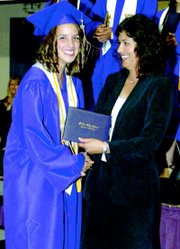 MABTON - For one last time the seniors at Mabton High School gathered in the school's gym before setting off into the unknown.
"This journey is going to be awesome," class valedictorian Rubi Perez told the other 54 Mabton graduates at Friday night's ceremony. "It might get difficult but don't forget to live for the moment. I would like for all of us to start doing that right now."
The daughter of Manual and Dolores Perez said she thought of Robert Frost when thinking of what to say to the Mabton graduates. She quoted from Frost's poem, The Road Not Taken, and told the class there will be 55 new roads created tonight.
Daniela Aguilar, the class salutatorian, encouraged the students to not follow others but to do what was right.
"The years have gone by like they were yesterday," she said.
She said that she and her fellow students were now ready to face the outside world without the help from their teachers.
Saying her mind has always thought of trying her best, she told the class to live every minute, day and hour as it's their last.
"I've done that," she added, "whether it was a math test or delivering a speech.
"Don't let life discourage you," she advised the class.
Guest speakers Bob and Diana Thomas also encouraged the students. Bob Thomas told the class not to fall into the would've, could've, should've category.
"Try your best and maybe you will be asked to speak at a graduation someday," he joked.
His wife went on to encourage them to dream big, work hard and take charge.
"Start your own businesses, hire your own workers and elect your own people to office," she said.
After a slide show created by graduating students Ramon Castillo and Brian Gasca was presented, the diplomas were handed out by Mabton School Board Chairwoman Jeanette Williams.
The 2007 graduating class of Mabton High School then walked out onto the football field and formed a receiving line to greet well wishers as Mabton students one last time.