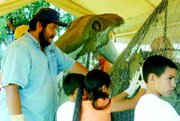 GRANGER - A new dinosaur was created at Hisey Park this past Saturday.
The dinosaur, a Pteradon, was built at the 10th annual Dino-N-A-Day event.
The dinosaur is a medium-sized flying dinosaur that stood nearly seven feet high. Its wingspan was 23 feet across, and it weighed from 30 to 40 pounds.
The Granger Public Works crew and many community members participated in building the creature with chicken wire and cement.
Enjoying the fun were many children, who donned rubber gloves provided by Granger Public Works and dug into the cement to fashion the prehistoric creature near the concession stands at the park.
Many parents watched the action and snapped photos as the children participated in the community effort.