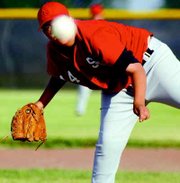 Sunnyside's Sun Valley baseball team hosted Pasco's Perfection Tire last Friday, beating them 11-0, and then lost to Richland's Motoring Services 4-3 on Saturday.
Sun Valley had an easy enough time Friday as Lane Pickel made quick work of Perfection Tire, tossing four innings and striking out three to help Sunnyside to its second straight win.
Pickel had plenty of run support as Sun Valley jumped to a three-run lead in the first and exploded for seven runs in the third.
Travis Jones went 3-for-3 for Sun Valley with a double and two runs scored. Jasper Rubalcava was 2-for-3 and Joel Leos went 1-for-3 with two RBIs.
On Saturday, Sun Valley traveled to Richland and fought a close duel before giving up a run to Motoring Services in the fifth inning to allow Richland to gain the lead.
Jones pitched the game for Sun Valley, striking out four batters but walking eight.
Mortoring Services scored one run in each of the first two innings and then Sun Valley scored three in the top of the third to go up 3-2. Richland got one back in the bottom of the third to tie the game and then got its fourth run in the fifth.
Rubalcava was 2-for-2 in Saturday's game and Jaime Sarmiento went 1-for-3.
Assistant Coach Cameron Boboth said Sun Valley played well both days and only gave up scattered runs on Saturday.
Sun Valley (2-4) will host Richland's Meyers Auto Tech Today, June 4, at 5:30 p.m.