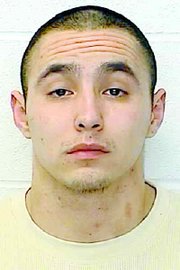 Adrian Ozuna, 20, has been sentenced for his role in the drive-by shooting which occurred Jan. 19, 2007 in the 1300 block of Jackson Avenue in Sunnyside.
Ozuna was arrested six days after the shooting in the 200 block of North Chestnut Avenue in Toppenish.
Pleading guilty to drive-by shooting charges, a felony, last Wednesday before Judge Ruth E. Reukauf in Yakima County Superior Court, Ozuna was sentenced to two years jail time.
One of his accomplices, Anadelia Flores, 24, of Grandview, was sentenced to 90 days with 82 days suspended and a $725 fine on charges of rendering criminal assistance second degree on Feb. 6 in Sunnyside Municipal Court.
Another of Ozuna's accomplices, Oscar Trevino, 23, of Sunnyside, was sentenced last week in Yakima County Superior Court. Trevino plead guilty to accomplice to assault first degree, a felony, and was sentenced to 366 days in jail. The sentencing judge for Trevino was also Reukauf.
The drive-by shooting was gang related, and the Sunnyside Police Department is seeking to charge two more adults suspected of involvement in the crime, according to Sunnyside Police Detective Jim Ortiz.