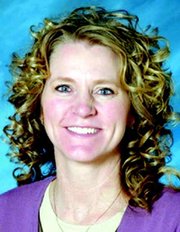 GRANDVIEW - The Grandview School Board has chosen to hire Julie Wysong as the new Principal at Harriet Thompson Elementary School and Ken Murray as the new Assistant Principal and Athletic Director at Grandview High School.
Wysong has been the staff developer for the Grandview School District and 21st Century Program Site Supervisor at Harriet Thompson Elementary for the past few years. She has also served as a literacy coach and served her administrative internship at the school.
In her various roles at Harriet Thompson, Wysong has been able to familiarize herself with the students and staff of the school through coordinating student enrichments, after-school learning, helping students achieve reading goals and providing various other services for them.
Before her internship, she was a first and second-grade teacher at Harriet Thompson Elementary School.
She has worked at the school a total of 11 years.
In a statement to the Grandview School District, Wysong stated that her "...goal is to obtain a principalship where I can work with staff to promote and maintain a safe, respectful and effective learning environment that is responsive to the educational needs of a culturally diverse, rural community."
Her many roles also provided her with the experience in designing, implementing and evaluation of professional development for the three elementary schools within the school district. She has analyzed and compiled district-wide data for the district improvement planning team, and elementary math and literacy teams among many other duties.
Murray has been serving his administrative internship for the last school year at Ephrata Middle School.
He taught at Ephrata High and Middle School as a mathematics teacher for seven years prior to serving his internship.
Murray has also served as the boys varsity head soccer coach, the crisis response team leader, a school improvement team member, a school safety team member, a physical agility examiner and chairman of the Central Washington Athletic Conference for girls soccer.
He received his administrative credentials and his Master's degree in professional development from Heritage University in Toppenish. His Bachelor's degree in secondary math was obtained from Central Washington University.
Murray was present when the school board finalized its decision during this past Tuesday's school board meeting. He told the board he was looking forward to his service at Grandview High School and was very excited to become a part of the "team."
During his time in Ephrata, he has been actively involved in the school improvement plan; aligning the focus on learning and teaching to produce more active learning. He was a member of the leadership that implemented and facilitated advance placement for students based on the Northwest Evaluation Association and WASL testing data.
He successfully taught multiple curriculums and worked with students, differentiating instruction to meet the needs of students with learning and behavioral disabilities.
As a soccer coach, Murray directed coaching staff, managed the budget, facilitated fundraising and provided consulting, camps and summer training opportunities. He also established a regionally recognized summer tournament for high school soccer teams.
Both Wysong and Murray will begin their new positions in the coming 2007-08 school year.