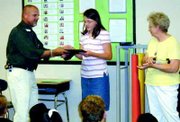 After being encouraged to write about their favorite teacher, 1,600 third, fourth and fifth grade students submitted their works to the Washington Education Association for the "Teacher to Remember" essay contest.
Pioneer Elementary School fifth grader Josie Marro was one of these students. She submitted an essay about Mrs. Rose Hall, her fourth grade teacher, after being encouraged by the school's enhancement teacher, Allison Ledesma.
Marro was recognized for her entry with an awards presentation last week.
"I felt like I should try it because it sounded fun and I knew exactly which teacher I would write my essay about," said Marro.
In the essay, she stated Hall taught her life lessons, made her laugh and instilled in her discipline.
"She would put us in groups with people you don't always get along with," said Marro.
She stated in the essay that Mrs. Hall made students laugh to alleviate stress.
Jerry Bounds of the Selah School District and representing the Washington Education Association was at Pioneer Elementary School last Friday to present Marro and Hall with awards.
Marro said she is excited and proud of herself for the achievement of being selected an award recipient.
"I feel very happy and Mrs. Hall was excited," she stated.