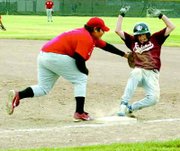 The Sun Valley baseball team, comprised of 14- and 15-year-olds, hosted Richland's Sundown Sport and Marine team last night, beating them 5-3 and inching closer to evening its record at .500. The Sunnyside team is now just one game under at 3-4.
"We played with good pitching and good defense and that's what wins games," Sun Valley Coach Tom Schmick said.
It took a while for the Sun Valley bats to heat up.
"Our first three innings were three up and three down," Schmick said.
Jaime Sarmiento started on the mound for Sun Valley. He pitched two innings, walking three batters and allowing two earned runs to score.
Lane Pickel then entered to start the third and he calmly pitched the final five innings, recording two K's and walking four. Most importantly he only gave up one run throughout the final five innings.
That run came in the top of the fourth to put the Richland team up 3-0.
In the bottom of the fourth, Sun Valley was at the top of the batting order when Travis Jones drew a walk. This was followed by Justin Reyes ripping a ball to center left field for an RBI single.
Jasper Rubalcava was then walked. After Sarmiento flied out, Pickel slapped a ball into deep second base territory. Although he was thrown out, his hit brought home Rubalcava.
The two runs cut Richland's lead to just one run.
Sun Valley would take care of that in the sixth inning.
Again the Sunnyside team was at the top of its batting order.
Jones was walked again and this was followed by a Reyes walk. Rubalcava then singled, loading the bases. Pickel came up and smacked a double, scoring all three runners on base.
Reyes went 1-for-2 with an RBI and two runs scored. Rubalcava was 2-for-2. Pickel hit 1-for-3 with four RBIs and a double, and Luis Valles was 1-for-3.
"They threw the ball well," Schmick said of the three Richland pitchers his team faced. "We had five hits but they came at the most opportune time."
Sun Valley now has two days off before resuming play Thursday, June 7, when they travel to Hanford High School to play Richland's Campbell and Company.
Corey Russell/Daily Sun News
Sun Valley's Jaime Sarmiento (L) makes a tag at first base after a Richland player took too big of a lead.