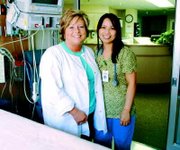 Sunnyside Community Hospital has two critical care certified nurses in Tina Glockner and Vivian Geangan of the Intensive Care Unit.
Only 78 percent of the nurses who take the examination to become certified pass, according to estimates of the American Association of Critical Care Nurses. The nurses' knowledge of the care of critically ill patients is validated by passing the exam. The special knowledge and experience required for critical care nursing is reinforced by obtaining the certification.
Glockner, a native of the Yakima Valley, has worked at Sunnyside Community Hospital in several positions for more than 12 years. She obtained her nursing degree while working full-time and was recently promoted to the temporary position of nursing electronic medical records coordinator at the hospital. When needed, Glockner still works in the intensive care unit.
An immigrant from the Phillipines, Geangan has worked at the hospital for five years. She is married with three children.
"We are very proud of Tina and Vivian for this achievement," said Nancy Hultberg, the intensive care unit director. "Finding time to study, work and raise a family is a huge challenge."
Both women studied for more than five months in preparation for the exam.
Five of the 11 nurses who regularly work in the hospital's intensive care unit have received their critical care certification, according to Hultberg.
She said three others are currently studying for the exam.