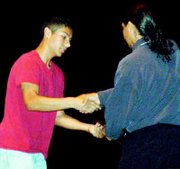 The Sunnyside High School auditorium was the scene Tuesday night for the school's spring sports award ceremony.
The reigning District champion and State tournament qualifying boys soccer team took center stage.
Joaquin Perez was named the soccer team MVP and the most improved honor went to Danny Alvarez. Daniel Valencia was named most inspirational player. Matt Jonsgma was named the team captain. Andres Vargas earned the JV soccer program's academic award and Nick Steckler the varsity award.
In boys and girls tennis, Hannah Paulakis was named most inspirational and Vikina Pavlova the MVP for the girls, and Tyler Carpenter earned most inspirational and Jake Wavrin MVP honors for the boys.
Rebekah Paulakis was named the academic award winner for the girls JV tennis program, and Jessica Gonzalez for the varsity.
For the boys tennis team, Daniel Wavrin earned JV academic honors and Matt Johnson varsity academic honors.
In the Grizzly track programs, Claire Schilperoort was named outstanding performer for the girls and Brice Rinehold outstanding performer for the boys.
In other girls track honors, Maria Ramirez won the coaches award, Jordyne Jaquish was most improved and Teresa Ramos was most inspirational. Megan Tyler received the team's academic award among varsity athletes. There was no JV academic award.
On the boys track side, Roy Haringa was selected as most improved, Sterling Scott most inspirational and Jaime Sambrano earned the coaches award. Chris Winkelman won the boys JV track academic award, while Sterling Scott and Dane Schmick shared the varsity academic award.
In golf, Justin Bos was tabbed as the program's MVP and boys academic award winner, with Tonnele Driesen named most inspirational on the girls side. A.J. Visser was selected as most improved among boys golfers, and Emily Slinker among the girls. Hannah Vlieger earned academic award honors for the girls golf team.
In girls fastpitch softball, Zenaida Perales was named most improved for the Lady Grizzlies and Marina Martinez was tabbed as team captain. Victoria Ramos was named most inspirational, while Sarasa Partida and Kasi Guillen earned best bat and golden glove honors, respectively.
Softball team academic award winners were Hailey Moore for the freshman team, Stephanie Sanchez for the JV, while Victoria Ramos and Melissa Stamschror shared the varsity honors.
For the Grizzly baseball program, Gibby Briones was selected MVP and Zach Marquez captain. Jasper Rubalcava earned most improved honors, while Nathan Cornelius and Cameron Boboth won most inspirational and the coaches award, respectively.
In baseball academic awards, Bernald Rodriguez won the honor for the C squad, Chance Graff for the JV team and Tristan Abbott for the varsity.
In a separate academic announcement, it was noted that the girls tennis, girls track and boys track teams received team GPA awards from the WIAA.