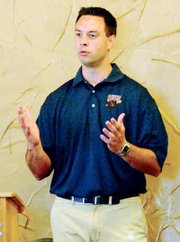 The Yakima Bears baseball team has been in the Valley since 1990 and in that time has won three championships in the Northwest League, K.L. Wombacher, general manager for the Bears, told the Sunnyside Daybreak Rotary Club Wednesday morning.
The Bears have had a host of fine players go through the short season A organization now aligned with the Arizona Diamondbacks. The most well known player is probably Paul Konerko, who played for the Bears in 1994 and won a World Series with the Chicago White Sox two years ago.
Another former Bears player currently in the big leagues is Conor Jackson, who played for the Bears in 2003 and was the league MVP. He is now the starting first baseman for the Diamondbacks.
Wombacher told the Rotarians the Bears offer much to families in the Yakima Valley in terms of affordable entertainment.
Approximately 90 percent of the Bears roster is pulled from the amateur draft and he said Bears fans are able to watch players get their first professional experience and then watch them climb through the leagues until they reach the majors.
"This is a very exciting time for our franchise," he said. "The last two years we've seen increases in our ticket sales. Single day tickets go on sale this Saturday and we're already up 22 percent."
Wombacher thinks this year might be the third straight year the Bears increase ticket sales.
This Saturday, June 9, the Bears will host a fan fest at Yakima County Stadium to celebrate the sale of single day tickets. There will be activities for the children, free pop and hotdogs, and some will get the chance to take batting practice with the Bears.
Yakima will play 76 games this year in 79 days, with 38 home games at Yakima County Stadium. The season starts Tuesday, June 19, at Everett and the Bears will kick off the home schedule Sunday, June 24.
Improvements have been made to the Bears' stadium this year. After the five minor league baseball teams in Washington received $7 million from the state, Yakima's cut was $750,000. This money was used to replace the outside wall at the stadium, replace and upgrade the lighting system, renovate the batting cages and add a permanent cover over the picnic deck.
"This is our Safeco Field," Wombacher said. "We want our fans to be proud of it."
The organization's goal, he said, is to provide the best fan experience possible for Bears fans.
The Yakima Bears will host a baseball camp in Sunnyside through the Sunnyside Recreation Department Tuesday, June 26, Wombacher added.