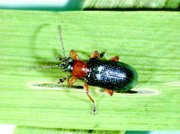 WSU researchers are taking a cue from the Alien movies to help wheat farmers in Yakima County.
The Cereal Leaf Beetle is all business when it comes to wrecking wheat and other cereal fields. It has been spotted in the White Swan area.
In a counter-attack, WSU extension researchers may as soon as this month introduce a parasitic wasp to help take a bite out of the beetle population.
The bug originated in Europe and made its U.S. debut in 1962 in Michigan. The westward migration continued in 1999 into the wheat fields of eastern Washington.
Last year the Cereal Leaf Beetle was spotted for the first time in Yakima County, and WSU researchers confirmed it this year at three sites in the White Swan, Harrah area.
By some estimates, the Cereal Leaf can clean out 75 percent of a wheat crop. The bug is also partial to rye and barley.
"I'm a little bit worried it will go for Timothy Hay," noted Dr. Michael Bush, an educator with the WSU extension office in Yakima.
The beetle does its damage by eating the green material between what Bush calls the "ribs" of each wheat strand. If left unchecked, the beetle can leave wheat in something of a skeleton appearance, with only the ribs of the strand remaining.
The younger beetles aren't much nicer.
"The larvae itself is pretty disgusting," Bush said. "It will actually store up fecal material on its back so that it repels some of its natural enemies."
One tell-tale sign of a Cereal Leaf infestation is a brownish color that shows up on skin or clothing when walking through a wheat field. That color is actually from the larvae stored fecal material. "If you walk through in white pants it would should up in brown spots all over you," Bush remarked.
Bush said wheat fields are not usually sprayed with insecticide. With the threat of Cereal Leaf, WSU is hoping to save farmers the cost of starting with insecticides by introducing a parasitic wasp.
A local wheat grower has agreed to work with WSU to set aside a small three to six-acre block of wheat to serve as an alien lab of sorts for the next three to four years.
"He will not treat this wheat with insecticides, in part to build up populations of cereal leaf beetle," Bush explained, adding that insecticides also kill the wasps.
This month or next, WSU researchers will release little parasitic wasps that will eat away at the beetles from within.
The wasps do this by laying eggs that hatch into grubs that feed inside the beetle larvae. Next year, the grubs will emerge as wasps and lay dozens of eggs in other cereal leaf beetle larvae.
"It is like a real life Alien movie for the Cereal Leaf Beetle," Bush remarked.
The wasps can't completely do away with the beetle, but researchers are hopeful that 80 percent of the Cereal Leaf population will be dispatched by the parasites.
"The goal is to get the parasitic wasp established here in Yakima County," Bush explained. "It should provide enough control of this pest that cereal growers will not have to incur the costs of pesticide sprays to protect their crops."
If not deterred, Bush feels the strong-winged beetle will eventually migrate to other areas of the county and head further west. "It can fly quite a distance," he noted.
Bush describes the beetle in appearance as about one-quarter inch in length with a distinctive metallic blue abdomen, along with an orange red thorax and legs. To report a Cereal Leaf Beetle sighting, contact the WSU Extension office at 509-574-1600.
Though the Cereal Leaf Beetle is present in Yakima County, Bush said farmers shouldn't panic.
"It's important to note that the numbers we're finding here are not anything that growers should panic over," he advised. "Farmers should do a little scouting before they spray an insecticide."