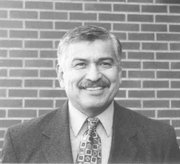 After more than 20 years of experience in city and county government, Jesse Palacios is back for another run on the Grandview City Council.
Palacios most recently served eight years as a county commissioner. That was preceded by a combined 13 years as a city councilman and mayor for Grandview.
Palacios filed with the Yakima County Auditor yesterday to run for the city council, position 7 seat now held by Javier Rodriguez.
He said he filed for that particular position because as of yesterday no one was yet running for it.
"It's not an issue against anybody," Palacios said of his decision to file. "I don't have issues with any of the existing council members. It's just that there was a position that was still open after three days."
Palacios said he was "lobbied pretty heavily" to run again for council and stay involved. "I'm retired now, so I do have some time," he added.
If elected, Palacios said he would like to "continue the positive things" that the current council is accomplishing.
At the same time, he sees areas for improvement.
"Like any city we have issues," he said. "I'm interested in protecting our way of life that we have in Grandview." Specifically, Palacios said he would like to focus on juvenile crime related to graffiti and gang activity.
"We need to find ways to correct the thinking of young people," he said.
Palacios said if elected he would also like to see council improve some neighborhood streets.
With the previous eight years spent as county commissioner, Palacios feels his friendships developed in county courthouse could be of benefit to Grandview.
"If there was a request from the city of Grandview for consideration or dialogue (with the county) I think that door could open," he said.
Also filing for election yesterday was Mario Martinez of Mabton, seeking to retain his city council, position 4 seat.
All three incumbents on the Grandview School Board whose positions expire this year filed yesterday for re-election bids. They are Lydia Moreno, district 1; Alfonso Contreras, district 3; and Timothy Grow, district 4.
Rounding out yesterday's candidate filing activity was Mabton resident Ernie Charvet, who filed to run for re-election to his Fire District #5, position 2 seat.