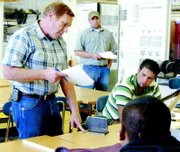 Six students at Sunnyside High School have run the gauntlet and have earned the right to participate in the finals of the second annual SHS Welding Competition.
Students from Tom Dolan's five welding classes have been competing against each other since January and the competition has been whittled down to six.
"It takes them half of a school year to learn how to weld," Dolan explained.
The finals will be held in the welding shop at the school this coming Saturday from 8 a.m. to 3 p.m.
Dolan said he got the idea to start the welding competition from Steve Anderson, a chief welding inspector at Canam Steel in Sunnyside.
"It was something he saw done in Ohio," Dolan said. "He told me he would give me a hand if I wanted to start something like this."
Thus was born the Sunnyside High School Welding Competition.
The students are competing for a variety of prizes...including a 210 amp welder donated by National Gas Company General Manager Bill Durban, a 180 amp welder donated by Canam Steel, a metal grinder and other prizes.
"The kids get to use the skills they are learning," Dolan said, explaining the reasoning behind the competition. "They enhance their skills and it brings out the best in the kids."
Dolan said the competition creates initiative in his students as they come in on their spare time and practice their welding techniques.
"They're getting a chance to be rewarded for their efforts," he added.
The students will be welding carbon steel and using two types of welds, the fill-it and the butt.
Each participant will start off with 100 points and their score will be deducted if there are undercuts in their work, a bad profile, porosity and other defects.
Corey Russell/Daily Sun News
Steve Anderson, a chief welding inspector at Canam Steel in Sunnyside, reviews the rules of the Sunnyside Welding Competition with local high school students.