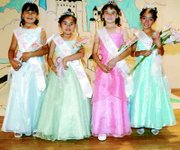 With roses providing a colorful barrier between the crowd and the stage area, the four contestants took the floor.
All smiled, some looked a bit nervous as they searched the audience for their parents but all of them performed the opening number well as the 2007-08 Lil' Miss Mabton Pageant got underway Thursday night in Sunnyside.
With a single silver pom pom in their hands, the four contestants, Tracy Galarza (10), Cristina Espinoza (9), Jessica Vasquez (9) and Analexis Diaz (7) danced and shook their pom pom to the beat to Tootsie Roll.
Soon the young Diaz would be crowned the 2007-08 Lil' Miss Mabton but not before the young ladies modeled both casual and evening wear, performed individual talents and answered an impromptu question.
Galarza wowed the crowd with an interesting belly dance, Espinoza danced to a re-mix of four songs, Vasquez sang the song "Love" and Diaz got the crowd going with her moves when she performed a hip-hop dance.
Due to an unexpected turn of events, the emcee was unable to attend so the 2006-07 Miss Mabton Court did the honors, accompanied by their number one fan Sean Borrego, cheering them on from the crowd.
During the impromptu question period, Galarza was asked what would be the one thing she would change about herself if she could. She answered, "My hair because it's too tangley."
Espinoza was asked why she wanted to become the new Lil' Miss Mabton and she said, "...so I can help my community."
Vasquez was asked who her favorite Disney princess was. "Little Miss Mermaid," she answered. Why? "Because she's a mermaid."
Diaz was asked who her favorite singer is and why and she answered Selena. "Because she sings nice."
When it came time to hand down the decision, the girls all stood together waiting. Espinoza walked away with the Miss Congeniality and Miss Photogenic awards.
Diaz was selected as the 2007-08 Lil' Miss Mabton and Galarza, Espinoza and Vasquez were named princesses.
"I feel happy," Diaz said. She added the first thing she will do is help her community.
"I feel very happy and excited," he mother, Anna Diaz, added.
Asked how she felt about her daughter's chances going into the event she said, "I was pretty confident but when it comes down to the last minute, you never know."