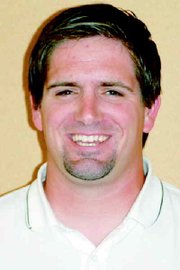 It's a big summer for Sierra Vista Middle School teacher Eric Berg.
The Moxee resident is getting married and, as a new varsity coach, he's guiding the Sunnyside High School girls basketball team through summer ball.
Berg was tabbed for the girls hoop head post during last Thursday's Sunnyside School Board meeting. An assistant on the team for the past three years, Berg replaces former Coach Leo Gomez who stepped down earlier this year.
When the high school hoops season opens later this winter, the Lady Grizzlies will focus on pressure defense under Berg's watch.
"We'll have a different look out there," he said. "Defense comes first. I don't care how many points we score."
The defense will include full-court pressure featuring zone, as well as man-to-man. "We'll press the entire game," Berg said.
In turn, he's hopeful that turnover-creating defense will spark the Lady Grizzly offense.
When Sunnyside does have possession, it will run a couple of offensive sets under Berg's guidance, including one that features three guards, a post and a second post player occasionally popping out on the perimeter. "Whatever we run I want us to do it well," he said.
Berg also wants to work on the team's fundamentals.
"We need to improve the entire program," he said.
Depth and conditioning will be keys for the Lady Grizzlies, as Berg anticipates the perpetual-motion defense will require his players to shuffle in and out of the game. "They'll get tired," he said.
With only three starters lost to graduation, Sunnyside will have a number of returning players.
"It looks good," he said of his team's chances this winter. "We have a lot of players coming back."
The Lady Grizzlies were winless last season in the new CBL and getting in the "W" column will require a shift both on the court and in the team's mindset, Berg feels.
Noting the team's tendency last season in playing well for three quarters then faltering late, Berg said the team "didn't know how to win the fourth quarter". He added, "The effort was always there, we just mentally couldn't close out a game."
Summer ball, he hopes, will help the Lady Grizzlies do just that.
"We have to learn how to win again," Berg said. "Hopefully they'll get a taste of winning and get that hunger."