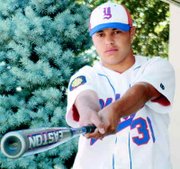 Gibby Briones has made his mark on the Sunnyside High School baseball diamond as a shortstop, pitcher and MVP performer for the Grizzlies.
This summer the junior is advancing his game by playing for the Yakima Beetles American Legion squad.
The team consists of players ages 17 and older from high schools throughout the valley. Briones said it took an adjustment as the only Sunnyside player to suit up with Ike, Davis and East Valley players that are now teammates instead of opponents.
"It's a lot tougher," Briones said of competition at the American Legion level.
Beetles coaches feel Briones is up to the task, installing him as the team's lead-off hitter and starting him in left field. Briones is also penciled in as one of the Beetles' starting pitchers.
In a season-opening loss last week, Briones contributed a base hit to the cause.
Briones hopes this summer's experience with the Beetles will improve his batting performance. "I'd like to hit with more power," he says.
He hasn't taken the mound yet for the Yakima team, but Briones said he's already planning to rely in part on a change-up that proved effective in high school ball.
"I'm going to have to be smart with the hitters and know where to pitch them," he said of American Legion batters.
In the field, Briones said switching from shortstop to left field does have a learning curve.
"At shortstop you're the captain on the field," he says. Though he may not see balls hit to him as much in left field, Briones said he has had to adjust to tracking fly balls in the breeze. "I had to learn how to read the ball," he said.
He also had to make the switch from relaying cut-off throws to the plate as a shortstop, to getting the relay started as an outfielder.
Briones played for the Sun Valley team here in Sunnyside last summer, and is looking forward to the step up.
He noted, "We weren't that successful last year and I wanted a new challenge."