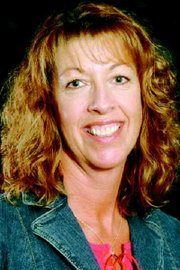 Karen Robertson has been driving school buses for 14 years and loves it. So much in fact she applied for and has been named the new Sunnyside School District transportation director.
Robertson spent her years as a bus driver working for the Stanwood-Camano School District north of Everett.
"It was the perfect job for me when my kids were growing up," she said. "I was able to be with them on vacations and for their sports. It was a perfect mom job."
She's a member of the Washington Association of Pupil Transportation (WAPT) and when her children grew up, she found she wanted more responsibility but didn't want to leave student transportation. When she saw the transportation director opening in Sunnyside on the WAPT website, she thought this position would be a logical step.
She will soon finish her second year of a four-year course at Central Washington University in transportation management and is working on her accounting degree through the University of Phoenix.
She believes this schooling will, "enable me to do my job as transportation director more effectively. Especially with the budgeting and financial aspect of the job."
Robertson interviewed for the opening this past May and because of her past bus driving experience, felt very comfortable during the interview process.
"I think I have a lot to bring to the table here," she added.
School officials agreed as she was offered the job the same day she interviewed.
Robertson said her duties will include coordinating the school bus routes, communicating with parents, students and the school district, and will work with the transportation budget as well.
"I have to make sure everything runs smoothly," she said.
She said she wants to make sure her buses are in top condition so they can meet all State Patrol inspections, which she said she wants to pass with a 100 percent rating.
Robertson doesn't start her new position until July 1 and in the meantime she is making the move to the Lower Valley. She has family in the Tri-Cities and will stay with them for a while but wants to move somewhere close to the Tri-Cities but still be close enough to Sunnyside.
"I'm ready to get started now," she said. "It's going to be a transition but I'm ready for it.