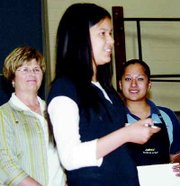 GRANDVIEW - Russ Cazier, chair of the local Subway board, was on hand at Grandview Middle School yesterday morning, Thursday, to announce the Subway restaurants of Yakima/Tri-Cities' "Fresh Fit" poster winner.
The contest lasted from March 26 to April 30, and Grandview Middle School student Rebecca Orozco was the winner.
As a result of Orozco's efforts to design a poster demonstrating a healthy lifestyle of eating right and staying fit, she received dinner for four for a year from Subway.
Her school was also awarded a $1,000 fitness grant in Orozco's name. The grant is for the purchase of fitness equipment at Grandview Middle School.
Subway believes in promoting a healthy lifestyle, and has provided healthy options to accompany the submarine sandwiches sold at its restaurants. Some of the options include juice instead of soda and raisins instead of chips.
Orozco's poster was "...judged based on creativity and a demonstration of healthy lifestyle choices," according to Cazier.
The purpose of the contest was to help combat obesity in children. "We are going to have the first generation of children who are not going to live as long as their parents," warned Harvard Medical School's George Blackburn in a press release issued by Subway.
Because of this statement, Subway has launched an awareness program to fight childhood obesity.
Also on hand to present the awards were Annette Christensen representing R.E. Powell Distributing of Grandview, the owner of the Grandview Subway restaurant, and Grandview Subway Manager Jessica Zaragoza.