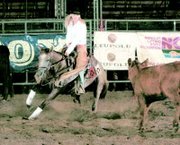 What would inspire someone to travel to Springfield, Ill. this summer?
Answer: the National High School Rodeo Association (NHSRA) Finals. And that's where Sami Jo Sartin and T.J. Hays are headed.
Sartin and Hays, seniors at Sunnyside High School, have qualified for the NHSRA Finals after having competed and placed in the top four at the state level of competition in cutting and steer wrestling, respectively.
Sartin typically competes in two events, cutting and barrel racing. At this year's state competition she qualified for nationals in cutting.
She said she has been competing in cutting for approximately eight years after watching her father and grandfather participate in rodeo events.
The sport involves walking her horse into a herd of cattle and separating the herd. Sartin chooses a member of the herd and attempts to keep that one cow separated for an allotted time. The goal is to separate three cows from the herd within a two and a half-minute time span without losing points.
Hays has been competing in rodeo events for six years. He has been competing in steer wrestling, calf roping and team roping.
It was his steer wrestling talent that qualified him for nationals.
"I got into it (steer wrestling) after watching my friend Tyler Morgan. It appeared to be really fun. He became my mentor and explained steer wrestling to me," said Hays.
Steer wrestling involves a race to the steer in the rodeo ring, the rider dismounts his horse and wrestles with the steer with one hand on each horn. The rider must then lock the horns into position of one horn pointed up and one pointed down and throw the steer onto the ground.
Hays had been involved in roping after riding horses and roping with his dad. But, it was Morgan's involvement in steer wrestling that really piqued Hays' interest.
To help Sartin and Hays meet expenses to compete at the national event in July, Van de Graaf Ranches will be holding a roping benefit on Friday, June 22. The benefit entry fees are two head for $9 in #6 roping, four head for $13 in #4 handicap roping and four head for $16 in the #8 handicap category.
The NHSRA Finals will take place July 22-28 and because of the qualification, both Sartin and Hays are now on the Wrangler All-Star team.