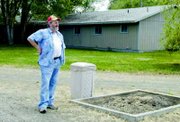 MABTON - Near Mabton along Sunnyside/Mabton Highway is a faded sign that reads "First Love Ranches."
Long-time community members are familiar with the ranch and its purpose. At one time it was commonly known as "Boyville."
Boyville became First Love Ranches in 1988 when Doug and Marcie Earp moved to the property.
The Earps renovated the property and began their ministry to families, children and individuals seeking to recover from substance abuse problems, mental illness problems, spiritual issues and other ailments keeping them from entering society.
"They would leave the ranch when they were comfortable with reentering society," said Mr. Earp.
He said he and his wife provided counseling, job training and many other services to help the visitors at the ranch.
But, the buildings have worn down throughout the years. "We have had hundreds of people here and the buildings need some work," Earp said.
The Earps decided to take a break from their ministry in order to make repairs to the buildings and take a little vacation. "It isn't much of a vacation, but it was necessary. We had maybe two other vacations in the almost 20 years we have been here," stated Earp.
He said they are enjoying the time they are spending together, working on the ranch. It could be compared to a working sabbatical, he noted.
Some volunteers have been helping the Earps to fix the buildings, but the couple is accomplishing most of the work.
"Marcie's really enjoyed it, she's been doing yard work," Earp said.
While the couple works on the repairs at First Love Ranches, they are also evaluating the next step for their ministry.
"We are looking at ways we can best serve the community," Earp commented, stating facilities such as theirs weren't as easy to find.
Because there are more treatment facilities available between Yakima and the Tri-Cities, Earp is looking at several possibilities such as providing care for the handicapped.
"My brother lives with us. He can function, but he needs supervision and can't go to town by himself," he said.
The Earps are also considering providing care for elders and other possibilities, including providing a school for young adults to train in providing the services previously provided at the ranch.
"We aren't going anywhere. This is our home and we love caring for others. We just aren't sure which direction we are going in just yet," Earp assured.
"There are a lot of people out there who have been in the situations of those who we have helped. Those are the people who can help others because they can relate to the situations," he stated.
Earp said whatever becomes of the ranch, it will remain a community environment, and he is hopeful that it will be invaluable to the community-at-large.