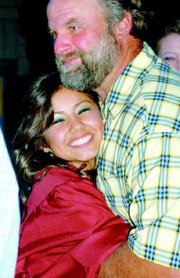 Transition was in the air, as a makeshift theater in the round of new bleachers greeted the Sunnyside High School Class of 2007 during commencement exercises last Friday.
The evening was, of course, all about transition for the graduates as they make the move from high school to college and other endeavors.
"We salute you for doing the right things. We salute your plans and your families," Superintendent Dr. Rick Cole told graduates.
The ceremony featured the presentation of awards to graduates, and graduates passing all four phases of the WASL were recognized with green and white cords on their graduation gowns.
Long time high school teacher Jerry Arlington was the featured speaker, as voted upon by the senior class.
Describing himself as a "country boy at heart", Arlington joked that perhaps there was some "ballot box stuffing" that helped him get the nod to be the speaker.
In a more serious tone, Arlington described how neither of his parents graduated from high school but worked hard to make sure their children earned high school diplomas.
He called the U.S. the "land of opportunity", and advised graduates it's never too late to make the most of what this country offers.
"We may not be perfect, but this is the best country in the world," Arlington noted.
Valedictorian Brenda Perez Alvarado told the 244 students who participated in the ceremony about her parents' struggles to make a better life in the U.S. after moving from Mexico.
She noted the language barrier she faced at age five and the fact she is the first in her family to graduate from high school.
"We each overcome obstacles and fears," Perez Alvarado told her classmates. "We are ready for a new chapter in our life."
In making the transition to that new life, Salutatorian Sterling Scott told the Class of 2007 to measure success in terms of commitment to family.
That's a lesson, he added, the entire country could learn from.
"To put our nation in order, we must first put the family in order," Scott said.
Scott also advised students to reach their highest potential.
"We've all born with gifts and talents," he said of the goal of reaching for one's highest potential. Scott added, "We have one chance to live, let's live well."