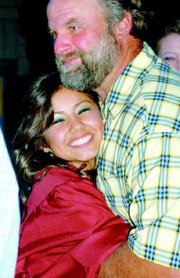 GRANDVIEW - The 2007 Sunnyside Christian High School graduating class converged at the Grandview Church of the Nazarene last Friday night to celebrate commencement exercises.
Valedictorian Tori Marie Van Wingerden spoke to her 20 peers, encouraging them to understand the importance in acknowledging the past as much as the future, especially their Christian education received at Sunnyside Christian.
"For 13 years we've worked for this goal- graduation. By God's grace, we're here," she said.
The class chose Romans 12:9-13 as their class verse, which encourages Christians to love one another, hate what is evil and cling to what is good. It also encourages being devoted to each other in brotherly love, honoring each other more than one's self, being joyful in hope, patient in affliction and being faithful in prayer.
"Love those around you and God above all," Van Wingerden said.
History teacher Russell Smies served as the commencement speaker and he, too, spoke of the verse. "In preparing for tonight, I've come to see that this is an excellent choice. This is a passage that, like your class, is full of commands and imperatives. Paul keeps his words simple and to the point," Smies said.
He then read the passage with an original twist, inserting the names of each of the 21 graduates in Romans 12:9-19.
After citing each name in the passages, Smies said, "Now, there is some reason to the order your names fell into the passage, but there doesn't need to be. Any one of your names could be interchanged with anyone else's...I hope you see that this is your verse and it was written for you," Smies said.
Smies said that in the past year, and especially the past few weeks, the graduates had many stressful events. "But what struck me about your response to those trying times is that, when it came right down to it, you acted more like brothers and sisters who stuck up for and walked along side each other...the bottom line is that throughout your years together, you have learned to be devoted to one another in brotherly love."
Finally, Smies said, "...Regardless of what you plan to do, the most important thing, besides knowing and loving the Lord as your personal savior, is found in verse 13 of your class passage, 'Share with God's people who are in need.' No matter where you go or what you do, always be looking to put God's love into action."
Lynda Jo Gross/Daily Sun News
The 2007 graduating class of Sunnyside Christian High School turns their tassels, concluding commencement exercises held this past Friday night.
Lynda Jo Gross/Daily Sun News
Sunnyside Christian High School graduate Nicolas Case DeJong receives his diploma from his father, Frank DeJong, a SCS Board member.