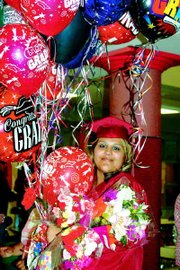 Never give up" was the repeated sentiment told to the 36 graduates of PRIDE High School last night at the 14th, and final, graduation ceremony.
The alternative high school students will be transitioned into regular Sunnyside High School classes next year.
The three guest speakers during commencement exercises were graduates Alejandra Rodriguez, Monica Denova and Claudia Garibay.
Rodriguez said that her focus early on in her education was simply to have fun, but the day came that she realized she'd have to work hard to graduate.
"Everybody in PRIDE gave me their support, they helped me, and they told me that I had to be here with my cap and gown, receiving my diploma," she said.
Rodriguez had to put in extra time, going to summer school and even an extra year. Little of that mattered last night, she said, because she reached her goal, as did her classmates.
"Everybody has a different story of PRIDE High School, but everybody had the same end."
Denova said that despite the times where schooling felt "tiresome, frustrating, stressful and demanding," the one thing that kept her, and others, going was the support received.
Denova offered the following advice. "If you have your eyes on the prize, you can't be scared to glance around at your surroundings...never give up and never let anyone put you down.
"If you want something really bad, you can do it no matter what happens."
Denova concluded with, "PRIDE High mentions who we are: we are students with pride."
Garibay thanked everyone who told her to never give up. "I took that advice and absorbed it."
Principal Gary Babcock said that each and every student graduating last night has taken the long road, with obstacles and triumphs, in order to reach the goal of graduation. But, he said, "They've shown what they have in them to succeed."