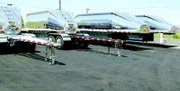 Since January of 2006, Beall Sunnyside, a firm which bought a manufacturing facility in northeast Sunnyside, has been putting out between one and two trailers a day.
With offices in Montana, Portland and California, Beall Sunnyside is the only branch in Washington.
"We build aluminum belly-dump trailers," Beall Sunnyside General Manager Izzy Sanchez explained. "They can carry gravel, coal, sugar beets and other various commodities."
Sanchez said Beall Corporation bought the Sunnyside plant because the previous owners were building similar trailers, though he noted the previous company used mostly steel.
The first thing Sanchez said Beall did after taking over the Sunnyside plant was to upgrade the facilities, renovating the office space, locker rooms and bathrooms for the employees and pouring a new asphalt parking lot.
Sanchez also hired new employees and he currently has 40 of them. At the moment, with things so busy at Beall Sunnyside, Sanchez said there is a possibility of adding new employees to his crew in the future.
The trailers manufactured at Beall Sunnyside are used throughout the United States but Sanchez said many of them end up in Utah.
It takes between 12 and 15 days for a trailer to be completed but they are staggered so one comes out of the factory every day or so.
The whole process starts with Beall Sunnyside receiving sheets of aluminum. All the work is done on site.
First the aluminum is formed. The parts are then cut using a high definition plasma cutter and then formed and bent on rolls.
The parts are then transferred to eight assembly lines, where the trailers are put together in stages, allowing one or two to be finished daily.
In the manufacturing shop, safety is taken very seriously. Ear plugs, safety glasses, steel-toed boots and safety gloves are all required.
"We have a good group of workers who do quality work," Sanchez explained. "I have a great crew," Sanchez said. "We have fun working together. It's like a big family."