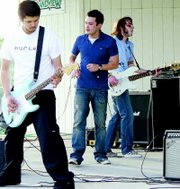 Not one, but a smattering of thoughts for my column this time around:
- It was a great blessing the way the mild weather cooperated this past weekend. The rain held off until after the Sunnyside High School graduation ceremony on Friday night.
Even when the rain came on Saturday, it waited until just after our church's children's ministry had concluded a summer celebration outside earlier that day.
- Speaking of Sunnyside's graduation, I felt bad for some of the graduates whose names you couldn't hear over the yells and air horns from the crowd. Graduation is surely a reason to celebrate, but let's at least have some decorum and consideration for all the graduates and those in the audience. The song's called "Pomp and Circumstance," after all, not romp and happenstance.
During the ceremony I saw one teacher, in gown, no less, have to go into the crowd to stop some of the air horn madness.
For what it's worth, the high school I attended was about the same size as Sunnyside's. To keep some sanity about the whole graduation experience, each graduate received four tickets to distribute to family members.
Maybe it's time for that here in Sunnyside, so that graduation can be held in a saner and more secure location, where everyone can see what's going on without fear of losing an eardrum or two.
- By the way, Sunnyside's not alone with some crowd control issues related to graduation. Hear tell Mabton's graduation crowd could have used a little more pomp and circumstance, too.
- Kudos to all the citizens who had the gumption to run for public office. It takes courage and not a small amount of time to run.
- The I-82, exit 67 interchange has been transformed with grass and trees planted by the Port of Sunnyside. Circling the interchange on the ramp onto or from I-82, it looks like a new park has sprouted.