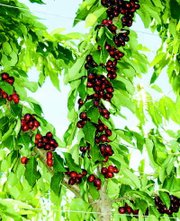 PROSSER - The Washington State University Benton County Extension Service and International Tree Association (IFTA) hosted their annual Cherry Field Day Tuesday.
Participants were able to sample sweet cherries such as Tietons and Chelans as they arrived, and take a tour of the extension service cherry orchards.
The crowd was separated into five tour groups, which were told of different growing methods currently being experimented upon at the orchards.
Concerns as to how to grow more efficient orchards were addressed at five different "stations," where educators with the extension service were on-hand to provide information and answer questions.
Matt Whiting said he has been working with cherries at the extension service for six years. His current focuses on creating fruiting walls.
He said to grow a more efficient system for platforms and machine harvesting, he has begun growing trees at an angle and tying off seven foot whips (trees) to a wire.
Whiting cleans off the underside of any buds or branches to allow the remaining buds or branches on the upside to grow vertically. Then, he removes buds between the branches that he wishes to grow as vertical uprights.
"My goal is to make the growing and pruning method more systematic because of the debate on the renewal system with older methods," said Whiting. "This would create a simple renewal system."
As each vertical growth strengthens, the renewal begins again and the growth is secured to another wire.
He spaces each tree approximately seven feet apart with rows varying from eight to 10 feet apart.
"We aim to reduce the complexity created by lateral growth (with this method)," stated Whiting.
When asked about the tonnage expected from the growing method, he said he expects it to be comparable to current methods.
The canopy would remain fairly low by training each tree to grow as a wall, approximately eight to nine feet in height.
Whiting also noted there is a possibility for production to be higher with the newer method, however the experiment is new and he has yet to find out.
Brett Adams, another educator at the extension service, said his research is tailored toward nursery systems.
He explained the differences between sleeping eye, dormant plants on a root stalk with the potential for growth, versus a finished nursery tree.
In Adams' research, he wanted to focus on growing healthy trees and began his experiments with two varieties of new root stalks known as the Mazzard and Gisa varieties.
He said he has been assessing viruses, sleeping eye and standard nursery tree growth, finding many are using sleeping eye plants due to the cost being approximately $6 less than a standard nursery tree.
But, according to Adams, an orchardist needs to account for the risk associated with using a sleeping eye plant. Part of the risk is that there is approximately an 8 to 12 percent loss and much more care involved in giving the plants a healthy beginning.
Whereas, a standard nursery plant has been cared for up to two years already and the nursery has already accounted for the losses.
"Most orchardists want their trees to grow at about the same rate and harvest at about the same time," said Adams. "So, if they lose some of their trees, they will need to buy some nursery trees that are about the same age as the sleeping eyes they already have planted."
He also said that the new combinations found at nurseries have approximately a 94 percent graft rate. Comparatively, approximately 78 percent of sleeping eye take to a graft.
Adams did assure those at Cherry Field Day that sleeping eyes outperform the nursery trees after year two because of transplant shock.
Currently, the Washington State University Extension Service uses cherries that are "available" to them, so Adams told one participant they haven't done much research on the newer growing methods for cherries other than the Chelan, Tieton, Bing and Skeenas.
Other experiments being performed at the extension service are on pistil doubling, mechanical harvest systems and the cherries that can be harvested mechanically, reflective ground cover and crop load management.
The day was concluded with a barbecue and wine tasting event.