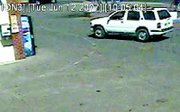 A 10-year-old Sunnyside girl walking to school along East Lincoln Avenue Tuesday morning was lured into a Nissan Pathfinder and assaulted by a young man.
Video surveillance from a nearby car wash at East Lincoln Avenue and South Sixth Street shows the child being called over to the vehicle and speaking with the driver for several minutes before walking around the front of the vehicle and getting into the passenger side.
The vehicle leaves the property westbound on Lincoln Avenue with the suspect and child inside.
According to police officials, the child was taken to another location and assaulted. No injuries were sustained according to the Sunnyside Police Department.
"The state definition of assault is unlawful touching of another," said Sunnyside Police Detective Sergeant Jeff Cunningham.
It is believed the man delivered the girl to the school that had been the child's original destination shortly after the assault.
Cunningham opted not to identify the school where the child was delivered due to regard for the safety of other children at the school.
He also stated that because the case is sensitive, police are declining to disclose the location of the assault.
"This is an ongoing investigation," said Cunningham, "We don't want to jeopardize it because of the nature of the crime."
The suspect is believed to be a Hispanic male in his 20's and was wearing a white t-shirt. The white, 1997 to 1999 model Pathfinder has sidesteps and a luggage rack.
Anyone with information regarding this incident is encouraged to call the Sunnyside Police Department at 836-6211.