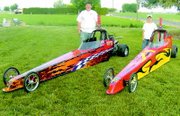 PARKER - They've both got game, possess nerves of steel and likewise, crave that adrenaline rush of rocketing down a quarter-mile strip of asphalt in mere seconds.
Oddly, the two drag racers in question aren't yet old enough to even have a driver's license. But that doesn't stop the two Sunnyside youngsters from burning rubber and leaving their drag racing foes in the dust at NHRA strips all over the Pacific Northwest.
The two youths-9-year-old Layne Linder and 13-year-old Josh Dalrymple-have become the ones to beat on the National Hot Rod Association Division 6 junior drag racing circuit.
The venue for the two's latest exploits was Renegade Raceway, located between Wapato and Union Gap. Competing last weekend in a series points competition, the two youngsters ended up in the finals against one another.
"It was the second time they've reached the finals together," said the father of the youngest of the two, Wayne Linder Jr., who along with Josh's dad, John Dalrymple, makes up the nucleus of the highly successful Johnny B. Good racing team.
"Layne and Josh also got to go head-to-head one time last season," said Linder.
This time around it was the older of the two boys who gained the upper hand, as Dalrymple sped down the Renegade track to a first place finish, leaving Linder with the runner-up performance.
Enroute to advancing to the finals last weekend, Dalrymple notched an impressive win over Brenden Walker of Seattle. Walker, the 2006 division champion, was holding down the No. 2 spot in this year's junior drag racing division points standings heading into the competition.
The victory at Renegade last weekend propels Dalrymple into the top spot on the 2007 points chart. He was sitting in third place before last weekend's division competition.
For the 9-year-old Linder, his second place performance last weekend boosts him a couple of spots in the points standings from the No. 6 spot he held prior to the competition.
Like his Sunnyside counterpart, Linder also scored a big win last weekend in one of the heats leading up to qualifying for the finals. That victory came in the opening round, when Linder was pitted against then points leader Courtney Wildham of Yakima.
Down the road this summer, in future competitions, the elder Linder said the two Sunnyside boys will continue to work to perfect their racing skills.
"And if they keep facing off against one another in the finals, we can all live with that," he said.