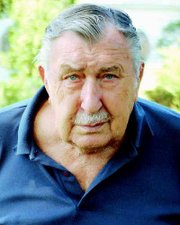 "I ought to do something," longtime Sunnyside resident Chuck Andrews told his wife, Pat, when he retired from Les Schwab Tire 20 years ago.
That "something" turned out to be a classroom volunteer for the Sunnyside School District. Andrews estimates he helped 400 or so elementary school children during the nearly 20 years he volunteered.
Andrews, 80, retired last week from his volunteer work in the district.
"I like working with kids," he said. "I like teaching math the best."
Lynn Andreasen is an elementary school teacher in the Sunnyside School District and said she worked with Andrews for "at least 10 years". That included time with Washington Elementary School first graders and Pioneer Elementary second graders.
"The neat part was you could set your watch by his arrival," Andreasen said of Andrews. "Even when he had major heart hospitalizations he would have his wife call to reserve his spot as a volunteer. There are very few people who stay with it that long."
Just as Andrews liked working with the children in helping them with reading or math, Andreasen said the students in turn appreciated him.
"The kids enjoyed him very much," she recalled. "They were always excited to read with him."
As a classroom volunteer, Andrews requested his own desk and chair in working with the youngsters.
He also offered teaching tips from time to time.
"If we were studying math and there was another way to do it (solving a problem) he sometimes would stop class and tell them another way to do it," Andreasen laughed. "He wasn't a silent partner. I think he should have been a teacher."
Pioneer third grade teacher Becky Flores worked with Andrews for the past three years.
"He really helped them (the students) with their facts," she said. "He was very helpful. Some of the math problems we wouldn't have been able to practice as much without him."
Starting with the 2007-08 school year Flores will be moving to a different position within the district.
As a result, Andrews said he stepped down as a volunteer because "I wasn't ready to start breaking in a new teacher." He estimates he worked with five or six different teachers over the 19 years he volunteered with the district.
Andrews said kids are still the same today as they were when he started volunteering.
"Each one has a different personality," he says.
One of the few differences between now and 19 years ago, he added, is that there are fewer volunteers in the Sunnyside School District.
Andrews feels volunteers are important because of the one-on-one attention they can provide for students.
"With 25 students in the classroom there's no way that one teacher can do that," he observes.
Though Andrews has stepped down from his volunteer role, Flores for one feels his work will be ongoing in the lives of the students he helped.
"He's been a real gift to many kids," she said. "They may not remember him when they grow up, but he was real dedicated to education."