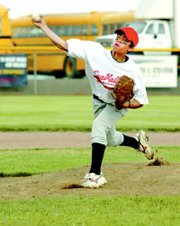 Sunnyside's Sun Valley baseball team's bats fell silent last night as they were beat by Pasco's All-Star Automotive 13-3, which snapped a three-game winning streak by the local club.
During the course of the game Sun Valley managed only two hits and committed five errors in the loss.
The game started just how Sunnyside wanted it to, by jumping out to 2-0 lead. Justin Reyes smacked a double and then scored on a Jasper Rubalcava hit that was charged as an error to Pasco. After Lane Pickel walked, Travis Jones hit a sacrifice bunt to score Rubalcava.
Reyes started for Sun Valley on the mound, lasting four innings and giving up four earned runs on six hits. He struck out two and didn't walk a batter.
After four innings, Pasco was up 4-2 and Lane Pickel came in to finish the game on the mound. He struck out three and walked two batters, giving up four earned runs.
"In the fifth, sixth and seventh we went kind of haywire," Sun Valley Coach Tom Schmick said. "We had four errors in the fifth and sixth innings. They came at a bad time and that's what hurt."
Pasco was able to score three runs in each of the last three innings while Sunnyside could only get one run in the bottom of the sixth.
Reyes was walked to start the inning and then stole second. Jonathon Paxton came up and was promptly hit by a pitch. Rubalcava came up next and was also beaned by a wayward Pasco pitch, loading the bases.
On a fake steal attempt by Reyes, who was on third, the Pasco catcher threw to third base but misfired and Reyes was able to score.
Reyes hit 1-for-2 with a double and two runs scored. Chance Graff was 1-for-1 with a double. Jones and Rubalcava both picked up RBIs.
"It was the errors that killed us," Schmick said. "Our pitching was good but you have to play defense too. Got to put both together."
Sun Valley (5-5) will have today (Thursday) off before hosting East Valley Friday, June 15, at 5:30 p.m. They will then travel to Pasco to play Pasco's Perfection Tire at 9 a.m. on Saturday, June 16. A doubleheader scheduled for Sunday in Sunnyside with East Valley could be canceled due to Father's Day.