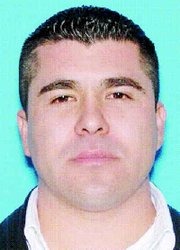 The suspect in the Sunday, June 10, shooting at Sunnyside's Acapulco Restaurant has been identified as Alberto R. Irigoyen-Murillo, 27, of Auburn.
Sunnyside police say there is probable cause for the arrest of Irigoyen-Murillo on two counts of attempted second degree murder.
The shooting incident occurred at approximately 7 p.m. Sunday night in the parking lot of the downtown restaurant.
Two Sunnyside men, Martin Munoz, 32, and Efrain Lopez-Hernandez, 25, were shot in the incident.
Munoz, originally thought to be 29-years-old, was taken to Harborview Medical Center in Seattle after having been shot in the head. He is still under care at the hospital.
Lopez-Hernandez was treated for a gunshot wound to the torso and has been released from Sunnyside Community Hospital.
The vehicle the suspect was in when he fled from the scene was a silver 2000 Chevrolet Suburban, license number 847-TJY.
Any further information on this case can be given to the Sunnyside Police Department at 836-6211.