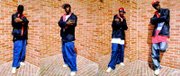 PHOENIX, ARIZ. - Abel Romero, formerly of Mabton, has established his own record label in Phoenix.
The record label is known as Patron Records and has signed Latin American reggaeton group "Still Alive" (A un Viven).
Romero lived in Mabton and worked as a disc jockey for Radio KDNA in Granger for approximately five years before leaving for Phoenix in 1992.
The new group he's signed has a style consisting of rumba and hip-hop. Still Alive is currently touring across Latin America and consists of four members. They are from Columbia, and they write, produce and arrange their own music.
"This is really exciting for my brother," says Francisco Romero. "The group is tremendous."
Currently, Still Alive has two singles, Lady and De Feria, charting record pools in the U.S.
They have a video on LA TV, MUN2 and will soon be seen on MTV3.
Romero says he is excited about his new record label and the fact that the firm has signed the group.