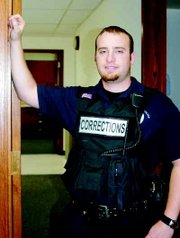 GRANDVIEW - Graduating from the Washington State Criminal Justice Training Center in the Corrections Officer Academy just last week, Kevin Glasenapp is now serving in his new role at the Grandview Police Department.
Glasenapp was just hired on at the department last December as a dispatcher.
Now, he'll serve as a full time corrections officer, taking care of the jail, court transfers, new bookings, releases, all inmate care and supervising trustees and those in the work release program.
The police department now has two corrections officers, Glasenapp and Cindy Helberg. Helberg said she's grateful for the help because now that the court system has changed in Grandview, the duties for corrections officers has increased because so has the days that inmates appear in court.
Glasenapp first joined the Grandview Fire Department as a volunteer when he turned 18. Glasenapp, now 21, even has a degree in fire science.
It was meeting the police officers during fire calls that piqued Glasenapp's interest in law enforcement. "I worked along side these guys and I liked them," he said. Glasenapp wants to ultimately serve as a police officer.
"My goal is to get on patrol. This is a good stepping stone," he said.
In the meantime, he's enjoying his new schedule. As a dispatcher, he worked rotating shifts. As corrections officer, he works Monday through Friday from 7:30 a.m. to 3:30 p.m. "It's nice because I have every weekend off and I can do things after work. But I didn't mind (shift work)," Glasenapp said.
The Grandview jail has the capacity to hold 20 inmates in five cells.
When it comes to working for the Grandview Police Department, Glasenapp said he's "in it for the long haul."