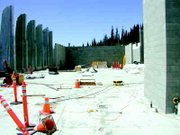 MT. RAINIER - The Paradise Valley Shuttle services the overflow parking on the Paradise Valley Road at Mt. Rainier National Park and is open again for the summer season.
The shuttle runs every 30 minutes, picking up passengers along the road and at designated shuttle stops.
Walls are going up on the new Paradise Visitor Center and chimneys and rock work are going back up on the Paradise Inn at the start of the second construction season.
The current visitor center will remain open during construction and will continue to provide book and gift sales, dining at the Grill, nature walks and interpretive activities. Lodging is not available at Paradise until May 2008 but other lodging options include the National Park Inn at Longmire and in communities outside the park.
The upper parking lot remains closed for construction activities.
To help alleviate parking congestion the free Paradise Shuttle System begins operation today, Friday, June 15, running through Labor Day, Sept. 3.
The two shuttle routes will operate Friday through Sunday and Labor Day only. The shuttles will not operate Monday through Thursday.
Visitors can enjoy the views of the mountain and the Tatoosh Range while riding the Paradise Shuttle. Park west of Paradise at the Cougar Rock Picnic Area or the lot just west of Glacier Bridge and ride the free shuttle up to Paradise.
Park officials encourage visitors to consider avoiding weekends by visiting Paradise on weekdays, early or late in the day.
If visiting on a weekend or holiday, plan to arrive at Paradise by 9 a.m. or after 5 p.m. for the best parking opportunities.
Visitors can also consider exploring other areas of the park or outside of the park during construction.
For more information visit www.nps.gov/mora