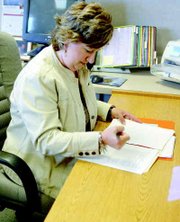 Looking for a chance for more responsibility inside the Sunnyside School District, Kim Frank got her wish last month when she was named the new assistant principal at Pioneer Elementary School.
Describing her feelings as excited and elated, Frank said this was the direction she wanted to go with her career.
Frank is coming from Outlook Elementary School where she taught as a reading coach for two and one-half years. Prior to that, she taught in the Grandview School District at various elementary schools for 14 years.
Before teaching at Outlook, Frank received her administrative credentials from Heritage University in 2004.
She said she likes being a reading coach for Outlook school, citing the leadership role she fulfilled and watching the growth of the students' reading ability.
"With the hard work of the teachers you could see it," she said of the improvements.
She went to fill in at Pioneer last December when the then current assistant principal went on maternity leave. When the former assistant principal took another position in the school district, suddenly the position at Pioneer opened and Frank applied.
She will officially start July 1. She has been working with the principal and setting professional and academic goals for the staff and students at the school.
"The staff is dedicated and professional, which ensures academic success for our students," she said. "It's such a pleasure to work with them."
Frank said her new duties will be disciplining students, overseeing special classroom services, supervision and making parent contacts.
She said she is excited for the school year to start.
"The opportunity to work with great leadership in our school district," she added. "I'm looking forward to building relationships with the staff and students and improving my skills as an administrator."
Frank said she loves teaching K-5 and wouldn't consider leaving elementary teaching. She said she is hoping to one day earn enough experience to eventually become a principal of her own school.