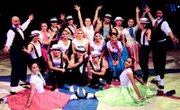 The last time Circus Chimera was in Sunnyside was July 2005.
According to Melba Fujiura of the Sunnyside Lions Club, the acrobats and clowns were terrific.
Because of the unique, theatrical-style performances, the Sunnyside Lions Club is bringing the performers back into town this coming September. The circus features juggling acts, acrobats, clowns, dancing and more.
The 60-foot big top travels as far as Killeen, Texas this year and the Lions Club is proud to feature them in Sunnyside Tuesday through Thursday, Sept. 4-6, in the field next to Speck Motors on East Allen Road.
The circus provides children and families with up-close and personal experiences with entertainers, celebrating the Circus Arts and retaining the traditions of the traveling tent.
This year's performance is themed around the 50's and is called Happy Dayz.