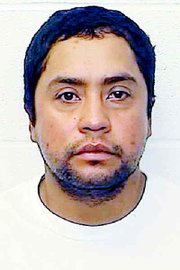 Assuming the charges stick against a man arrested by Sunnyside police this past Saturday at a local shopping mall, there will be one less person on the streets preying on young children.
Acting on a tip from a local citizen, Sunnyside police apprehended 34-year-old Rafael O. Pantoja Saturday morning shortly before 9 a.m. He is believed to have lured a 10-year-old Sunnyside girl into his Nissan Pathfinder last Tuesday morning, near a car wash at East Lincoln Avenue and South Sixth Street.
Local law enforcement officials are requesting that first degree kidnapping and luring charges be filed against Pantoja, whom police say is a resident of Sunnyside. Det. Jeff Cunningham indicated that an ongoing investigation may result in Pantoja also being charged with assault.
A security camera at the car wash where the young girl was lured into the vehicle last Tuesday captured the incident on tape. The video surveillance was posted on the city web site, which ultimately led to Pantoja's arrest.
Cunningham said at about 8:45 a.m. Saturday a caller phoned police and reported a vehicle matching the description of the SUV used in the luring incident was traveling on Yakima Valley Highway in Sunnyside.
"The caller followed the vehicle into the parking lot of Fiesta Foods at the Sunnyside Mid Valley Mall, while calling the police department," said Cunningham.
Officers raced to the scene and quickly made contact with the driver of the vehicle, said Cunningham, noting the suspect in question was Pantoja. The patrolmen initially took Pantoja into custody on an unrelated misdemeanor warrant issued by Wapato Municipal Court.
Cunningham said Sunnyside detectives were called to the site and upon further investigation, Pantoja was identified as the driver of the vehicle at the time of last Tuesday's luring incident.
"Upon questioning by detectives, Pantoja admitted to the incident," said Cunningham.