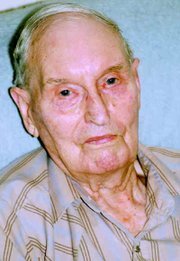 GRANDVIEW - Marvin Foredyce's earliest memories are of growing up on his family's homestead near Walla Walla in 1912.
Foredyce, who turned 99 years old on June 9, described homesteading as "the government betting you couldn't live off 160 acres for three years." Three years was the duration a family had to stay on the land in order to prevent it from going back into the government's hands.
It's now 95 years later, and Foredyce is alive and well, except for a stroke a few years back.
"I didn't even have a doctor," he smiled, noting that when he went into the hospital with his stroke he asked a physician on site to be his doctor.
The key to reaching 99 years is pretty simple, he says. "If there's any secret it's living one day at a time."
Foredyce also thanks God for his health and long life.
"I've been blessed with good health," he says. "I give credit to God for that."
God wasn't always a part of this former pastor's life, though.
Foredyce and wife Emma were married in 1927 and a year later she became a Christian.
At first he scoffed at the thought of going to church, then Foredyce said God told him, "If you don't give your heart to me now you won't have another chance." Even today, Foredyce remembers his conversion date, Dec. 27, 1930. "I knew what he (God) said and I knew what he meant," Foredyce said of his conversion experience.
Noting his "old ways were done," Foredyce went on to pastor an Assembly of God church in Prosser. He also ministered each Sunday at the Benton County Jail during that time.
"It was a matter of having the feeling that you're helping people," Foredyce said of his ministry.
After moving to Sunnyside in 1964, Foredyce taught a Sunday School class at Neighborhood Church for 10 years.
With more than half of his life spent in the Lower Valley, Fordyce has seen everything here from the depression to the growth of the area.
During the depression he says he remembers railway boxcars in Prosser filled with men and even women and children traveling from one soup kitchen to another.
"It wasn't a matter of finding a job, because there were none," Foredyce recalled. "They were just looking for another bowl of soup."
He continued, "I once saw a man who sold a nice cow with a calf for $10. That's depression."
In looking back on life as a homesteader, a pastor, even a carpenter at one point, Foredyce is also looking forward to turning 100 next June.
"If I can make it to 100 I got it made," he laughed. "There are very few people who die after 100."