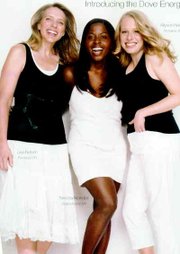 A teacher in her first year at Chief Kamiakin Elementary School in Sunnyside was recently one of five women to be named winners in the Dove Energy Glow contest.
Dove Glow products give the wearer a look like they have been in the sun.
"I was looking in glamour magazines and I saw an advertisement for Dove self-tanning products," Allyson Reister recalled. "There was a contest for a free summer getaway."
Reister had just moved to Richland from Texas and the winter up here was far gloomier than anything she experienced while living in Texas.
The longing for warm weather and sunshine prompted her to enter the contest.
"I had to answer a few questions about what summer meant to me," she said.
Reister was asked what her favorite memories of summer were and she wrote about the summer when she was 12 and ate strawberries for breakfast all summer.
"Summer at that time is a time of innocence for kids," she recalled.
Two months after she entered the contest Reister was notified she had been selected.
"At first I didn't believe it," she said. "I then got very excited. It was a blast, nice and wonderful."
As part of being selected for the advertisement campaign, Reister was flown to New York City with the other four women and put up at a posh hotel in the fashion district, where funny enough, she met another model known for his glow, Fabio.
She and the other four winners then met with a public relations group from Dove, did a photo shoot and are now featured in two magazines, Glamour and Lucky.
To top everything off, Reister was given a $2,000 shopping spree. Not only that, Reister and her husband will be taking a week long Caribbean vacation this summer at Dove's expense.
All in all not a bad prize for feeling blue in the Lower Valley's winters.
"I've always used Dove before," Reister said. "That's why I entered the contest. It's a great product."