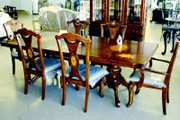 After running a furniture business out of her home for more than a year, Alma Salaiza has relocated her operation to Sixth Street and Franklin Avenue, the site of the former Pac-Co. store.
"We thought the store was in a good location," Lupita Salaiza, manager of Salaiza's Furniture, said. "There are a lot of windows and it's right in downtown where everyone passes."
Salaiza said her mother, Alma, has always sold merchandise from her home.
"She started out with home interior things and Tupperware," Salaiza explained. "She just wanted to expand."
Open in the downtown area since the middle of May, Salaiza's Furniture Store boasts displays people can come in and look at or, if nothing in the store catches their eye, they can browse a book from the supplier Salaiza uses to pick out just the right piece of furniture for themselves.
The store offers everything a person would need for home decor. Beds, mattresses, dining room sets, dressers and even picture frames are all available.
"We have a little bit of everything," Salaiza explained.
The store is open Tuesday through Friday, 10 a.m. to 6:30 p.m., and Saturday and Sunday, from 10 a.m. to 5 p.m.
Salaiza's Furniture also offers financing. For purchases $500 and under, the customer has three months to pay off the item before they are charged any interest, a $1,000 and under price tag gets customers six months before any interest is due, and anything over $1,000 the customers can have 12 months to pay without any interest incurring.
If a customer finds something they like at Salaiza's Furniture, they can either take home what's in stock or order the merchandise, which takes approximately two weeks.
Salaiza's Furniture also has a delivery service but Salaiza said it is good only to the front door, as they won't bring the items into the house for insurance purposes.
Since the building the Salaizas rent for their furniture store is so big, they also put in a party store called Rosie's Party Supply, named for a deceased aunt.
"Everything needed for parties or special occasions is there," Salaiza said of the store.
She added the recent graduations provided steady business for the party supply side of the business.
With the furniture and the party supply store, things are starting out well for the Salaizas.
"Business has been good," she said.