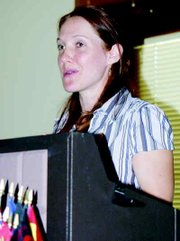 Monday's Noon Rotary Club featured guest speaker Jessica Geenen said her company, Trident Resources Inc., has been exploring the Yakima Valley to the Tri-Cities for natural gas.
She said the company is based in Canada and has been extracting soil samples, watching the progress of other natural gas companies and securing leases to discover natural gas sources in the region.
The geology of the area is considered before securing a lease. Most of the land Trident Resources has been securing for natural gas exploration is privately owned, and it tests soil and water already on the land before drilling.
Some of the difficulties, thus far, have been with basalt. "The basalt mixes the data and other tests are sometimes useful. Well water and soil samples are often used to detect methane," Geenen said.
She said the tests performed on soil and water are for methane traces or methane eating microbes.
Currently, the company has not yet collected enough information on the region to determine how deep the drilling should be done. It is unknown if the company can use multiple well lines.
"We are still just in the exploratory phases," said Geenen.
But, the company wishes to be "up front" regarding its presence in the area, letting the communities know what its purpose is and why it is here.
She told Sunnyside's Noon Rotary Club members there are other companies currently drilling with a reverse circulation rig. "There is only one in the country," she stated. "So, we are watching their progress."
Geenen said one company used the drill near Mattawa and it took the company approximately nine months to drill an approximate 14,000 feet.
Trident has been in the region for approximately two years and Geenen was assigned her post in the Tri-Cities last September.
She said she will be in the area in her current position as community liaison to help address concerns and answer questions of community members throughout the exploration process and into the permitting process.
Geenen said the company, and many other companies, are in the area because there is so little information on what natural gas resources are available.
Most of the company's work is in Alberta and Calgary. But, it hopes to form a partnership with the communities in Klickitat, Benton and Yakima counties.
"We believe in giving back to the community any way we can," said Geenen. One such way the company has already reached out to the community of Sunnyside is in forming a partnership with Chief Kamiakin Elementary School. "We are doing a photo exchange project with them," she noted.
In conclusion, Geenen said she welcomes any input or concerns community members might have of Trident Resources.