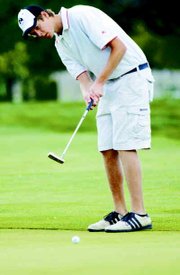 MOSES LAKE - Sunnyside High School senior-to-be Justin Bos got his summer on Central Washington golf links off to a rip roaring start this past Monday.
Competing in a Washington Junior Golf Association-sponsored tournament at The Links at Moses Point, Bos won the boys 16/17-year-old division with a 1-under-par 70.
Both, he and Southridge High School's Jonathan Lumper shot rounds of 70. Tourney officials deemed Bos the winner, however, based on a scorecard tiebreaker.
"They started with the No. 1 rated hole on the course, which is the eighth hole at Moses Point," said Bos. "I birdied that hole during my round and Jonathan parred it. That gave me the win."
If both golfers had taken the same score on No. 8, tourney officials would have moved to the No. 2 rated hole on the scorecard to determine a winner, and so on.
Bos may have had an inkling he was going to have a super day at the tourney, when he opened with a birdie on the par-5, 530-yard first hole.
"Actually, I drove my ball into the weeds," Bos said. "I punched out, then hit the green. I had about a 30-foot, breaking putt, but it went in for the bird."
Bos picked up what proved to be his most crucial birdie of the day on the top-rated, par-4, 370-yard eighth hole. He reached the green in regulation, leaving himself with only a four-foot tap-in.
A couple of minor snafus on the front side left the Sunnyside junior golfer with an even-par 36.
Bos continued rolling along after the turn, though, picking up par after par, absorbing only one bogie through the first seven holes on the back side. Heading into the final two holes, he was 1-over for the day.
Bos made his move for the top spot in the tourney when he reached No. 17, a very approachable par-3. He put his drive about 30 feet from the cup, and proceeded to knock it in to get back to even-par on the day.
On the closing par-5, 500-yard 18th, Bos went driver-8-iron to reach the green in two. He lipped out a long eagle putt, but left himself with a tap-in for bird, and what would prove to be the tournament championship.
Bos is scheduled to compete in a Junior World qualifying tournament next Tuesday, June 26, at Moses Lake Country Club.