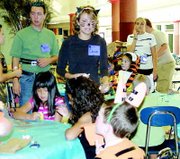 Sunnyside High School drama students have been hosting a drama camp for younger children this week.
During the drama camp, the children participate in arts and crafts, learn songs and create costumes for a recital to be held this coming Friday at noon.
The recital will highlight the crafts and songs learned during the camp and will be staged at the Sunnyside High School auditorium.
Students from the high school drama program have been holding the camp for approximately nine years, according to Sunnyside High School teacher Maisy Sylling.
She said the program is for first through ninth grade children interested in drama and it provides a great learning opportunity for the children.
"The high school students are given an opportunity to teach younger children and interact with them through the program," Sylling stated.
She encourages children to use their imagination in creating costumes and learning songs throughout the week. "The costumes change every day, but this year's theme is a safari theme," Sylling noted.
The children have made costumes that include elephants, tigers, zebras, snakes and other animals generally associated with a safari.
There are approximately 150 youngsters participating in this week's program, and 25 high school students have volunteered their time to help with the camp.
"I have been really pleased with the learning that has taken place and the high school students' willingness to give of their time," said Sylling.