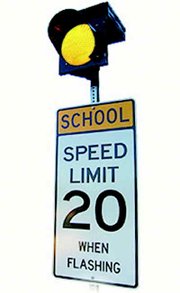 Sunnyside recently received a $22,500 grant from the Washington Traffic Safety Commission to install solar flashing lights at all of the elementary school locations.
According to Edica Esqueda, coordinator of the Yakima County Traffic Safety, the grant was made possible with the cooperation of the police department, public works and the Sunnyside School District.
"Everybody was pretty excited about it, so we just went forward with it," Esqueda said.
Esqueda said that safety in school zones has always been an issue in Sunnyside. "The community has to have seen there's just a lot of pedestrian kids walking to school," she said.
The new signs are solar powered and feature a light above the 20 mile per hour school zone signs.
Esqueda said that because the schools are so close together, the lights will benefit the high school and middle school as well.
"We got lucky that they will be located so close to each other," Esqueda said.
She also noted that the signs have been useful in other communities as a reminder to slow down during school hours. "These have been used as the best practice," she said. "People are visual and we understand that."
The state traffic safety commission believes the signs will reduce speed and the possibilities of fatalities or injuries, she said.
Esqueda is hoping the signs will be installed in time for the 2007-08 school year.
"It's a really exciting opportunity to increase safety for the community's children."