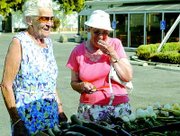 They came in ones, twos and threes. Some came just to browse but by the time they all saw what was available, most walked away satisfied and with bags of fresh produce.
Another attempt at setting up a farmers market was made yesterday (Wednesday) and by all accounts this could finally be the time the idea takes hold.
"It would be nice," said Rena Van Oostrum, when asked what she thought of a farmers market in Sunnyside. "I always wanted to see one here."
Marisol Alvarez, from Alvarez Farms in Mabton, agreed.
"I like it that they're trying to start something like this in town," she explained. It's (Sunnyside) small so anything helps."
Alvarez Farms and Del Sol Gardens were the only vendors on hand at the farmers market in the parking lot of the Sunnyside Mini-Mall yesterday. The plan is to hold one every Wednesday from 4 to 7 p.m. and Mini-Mall owner Bill Flower thinks more and more vendors will eventually show up once the word is out.
Anyone can sell their goods at the farmers market. Flower said all people need to do is show up at the Mini-Mall around 3:30 p.m., speak with the market manager (Flower) and pay the $15 space fee, and then set up to be ready to sell by 4 p.m.
Several people browsed the tables set up, overflowing with red salad onions, yellow sweet onions, white globe onions, green garlic, beets, zucchini, English and sugar snap peas, yellow squash and hot peppers.
Next week both vendors said they will have more produce, including cherries, asparagus and lettuce.