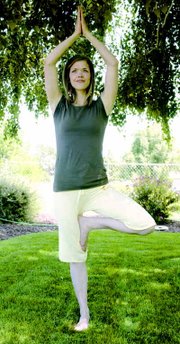 The ancient art of Yoga has been around for 5,000 years, older than some religions. Naturally, it would be only a matter of time before Yoga made its appearance in Sunnyside.
Janae Wise is currently turning Sunnyside residents onto Yoga, offering classes at the Sunnyside Community Center Tuesdays and Thursdays. She teaches aerobics at Valley Racquet and Fitness Club and is hopeful Yoga classes will be added this fall.
"Yoga incorporates the mind, body and spiritual connection," Wise explained. "It's not just a physical workout, but mental as well. It teaches to you to become more aware of your body."
Wise has been training in Yoga for six years and has been certified through AFAA and Fit Tour, two national certification organizations.
She started training when she was in college and said it's stuck with her ever since.
"Yoga enabled me to have my two kids naturally," she said. "It helped a lot with the breathing and Yoga also helps cope with the stress with raising two children."
Wise feels that once people start Yoga exercises they find it hard to stop.
"It's because they see and feel the benefits," Wise added.
She said the benefit is stress relief. She said the person is able to clear their mind and it feels good.
Wise especially encourages the overweight, flexibly challenged and older population to take up the ancient art form.
There are many different types of Yoga but she likes to practice Ashtanga Vinyasa, a fusion of aerobic stretching with combination of balance, strength, flexibility and cardio.
"I want everyone to do Yoga, she enthused. "I want everyone to realize Yoga is for everyone. As you connect the mind and body awareness it carries over into your other life. It helps people cope with the stress of life."
Wise said she would like to someday own her own Yoga studio and make Yoga affordable and accessible to everyone.
"It's one of the best physical therapies," she said. "It strengthens and stabilizes the spine, and massages and cleanses the internal organs."