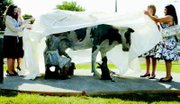 With dignitaries watching and dairymen in the crowd, the third bronze statute was unveiled Thursday by the Bronze Society of Sunnyside.
The latest statue is called Morning Chores and features a 12-year-old milk maiden performing her daily chores of milking a cow in the late 19th century.
Bronze Society member Bill Flower told the crowd gathered for the unveiling that the dairy industry was one of Sunnyside's first commercial industries. He pointed out Lewis Alexander, Arlene Alexander, Ruth Ferson and Wayne Ferson, who were in attendance. They are related to Elmer Ferson, who established Mountain View Creamery, the first of its kind in Sunnyside.
Also in attendance were Senator Jim Honeyford and county commissioner Rand Elliot.
Discussing the statue, Honeyford said the dairy industry has had a big impact on the Lower Valley.
Elliot added his thoughts, saying the statue is a great tribute to the dairymen in Sunnyside and the Lower Valley.
The piece was created by Desiree Dawn and Tim Norman did the lost wax bronze casting on the piece before it was set in to place on Fifth Street between Franklin and Edison avenues.
The $80,0000 statue is a gift to the Sunnyside Community from sponsors and patrons of the Bronze Society.
This is the third bronze statue set in Sunnyside by the society. The other two are the Ren Ferrell statue at Snipes Park and the H. Lloyd Miller statue at Centennial Square.