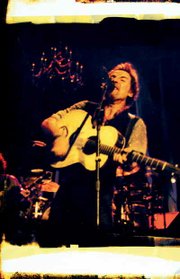 In late 2006 Bruce Springsteen joined with other musicians at Springsteen's farm house and over a period of three days, recorded what is now known as the Seeger Sessions. It's a complete album of some of folk artist Pete Seeger's best known works and other songs from days past.
Springsteen then took this band on the road and has just released a two-CD set and DVD of three shows the band performed in Dublin, Ireland Nov. 17, 18 and 19, 2006.
Titled Live in Dublin - Bruce Springsteen with the Sessions Band, the 23 songs on the CD include music from the Seeger Sessions, old Springsteen songs and covers that Springsteen does for the first time.
As Springsteen's manager puts it, the CD includes, "...folk music, blues, Dixieland, country, swing, gospel, rock, down to and including his own writing. It's all performed with Bruce's classic energy and focus."
The original sessions Springsteen did were recorded live from his farmhouse so the new album isn't much different, it's just recorded in front of a live audience. Bruce and the other 17 musicians grind through the songs expertly and it's a good listen, but the most exciting item is the DVD, which presents the actual concerts.
Seeing an 18-member band on stage must be impressive and the ambiance isn't lost in the DVD. Seeing these guys interact with each other is just amazing and worth sitting through to see the band perform the 23 songs. It's hard to believe Springsteen just met these musicians last year.
The band opens with a Springsteen song, Atlantic City, and then covers three songs from the Seeger Sessions. Jesse James is a fine song on its own but to see Springsteen singing about the former outlaw is fun to watch. Same with the song Mrs. McGrath, a song about the English Army asking a lady to give them her son. It's a much fitting song in today's times.
The band lets it all hang out on a rowdy rendition of When the Saints Go Marching In.
I like the CD but recommend the DVD as a must have in anyone's personal library. This DVD ranks right up with live Grateful Dead shows and could be watched time and time again without getting old.
How much longer Springsteen can keep his tribute to Seeger going has yet to be seen but if his latest effort is any indication, it will be sometime before this train stops.