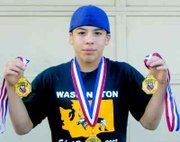 Josh Romero, who will be starting his freshman year at Sunnyside High School in the fall, won championships in all three wrestling styles at the Grand Nationals held in Butte, Mont. June 12-16.
Wrestling at 120 lbs., he beat wrestlers in the greco, freestyle and collegiate styles to take home the triple crown.
Romero already wrestled at a tournament in Reno, Nev. earlier this summer and is now in Klamath Falls, Ore., where he is participating in the Western Regional Championships.
Romero breezed through his greco and freestyle rounds at the Grand Nationals, shutting out all six of his opponents.
His first match in greco he won 7-0. In his second match he won 6-0, which was the same score he defeated his opponent by in the championship match.
In freestyle, he pinned his first opponent in 1:20. He won his second match 6-0 and the championship again by a score of 6-0.
Romero said he had a tougher time in the collegiate style, adding the style was the most challenging.
"It's harder to get points," he explained. "In the other styles you just have to make the move, in collegiate you have to make the move and hold them there for five seconds."
He won his first match in the collegiate style 20-5 and then pinned his next opponent. In his third match, he won 18-6 and in the championship round, Romero won 20-5 to sweep all three styles and win the triple crown.
More than 1,000 wrestlers were at the event and Romero said he had mixed feelings about winning.
"I was happy at first but at the same time I wasn't," he said.
Romero felt the competition wasn't quite up to snuff.
Still, he should get more competition this year at Sunnyside High School when he wrestles for the Grizzlies. Romero is hoping to follow in his two older brothers' footsteps and make a visit to the 2008 WIAA State Wrestling Tournament.