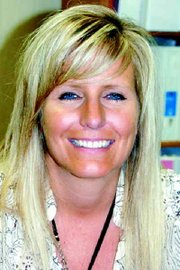 Come July 1, Angela Watts is going to go from monitoring a $28 million budget to a $61 million budget.
Watts is currently finishing up her term as business manager for the Wapato School District and begins as the Sunnyside School District business manager July 1, taking over the position previously held by Dave Plesha.
"To follow Dave Plesha, it'll be tough, some hard shoes to fill," said Watts.
Watts' first priority in Sunnyside will be to complete the district's 2007-08 budget by Aug. 31. And, in the meantime, she'll be doing a bit of double duty, working on Wapato's as well, as they have not yet replaced Watts.
Watts, who lives in Selah, said, "It's (Wapato) on the way home, so I can stop and work on weekends. I want to see them be successful and get a good candidate," she said.
Staying busy is nothing new for Watts. She and her husband own the restaurant Selah Mining Co., she teaches accounting classes for the Washington Association of School Board Officials through Seattle Pacific University and serves on the school district accounting and advisory committee through OSPI and the State Auditor's Office.
How does she do it? "I just fit it all in," she said with a laugh.
In addition to working on the Sunnyside School District budget, Watts will oversee food services, maintenance and transportation.
She chose Sunnyside because she felt it was a good career advancement, but that's not the only reason. She praises the schools in the district and has also taken note of Sunnyside's "good reputation."
Said Watts, "It's very supportive community from the city, to the police department to the businesses."